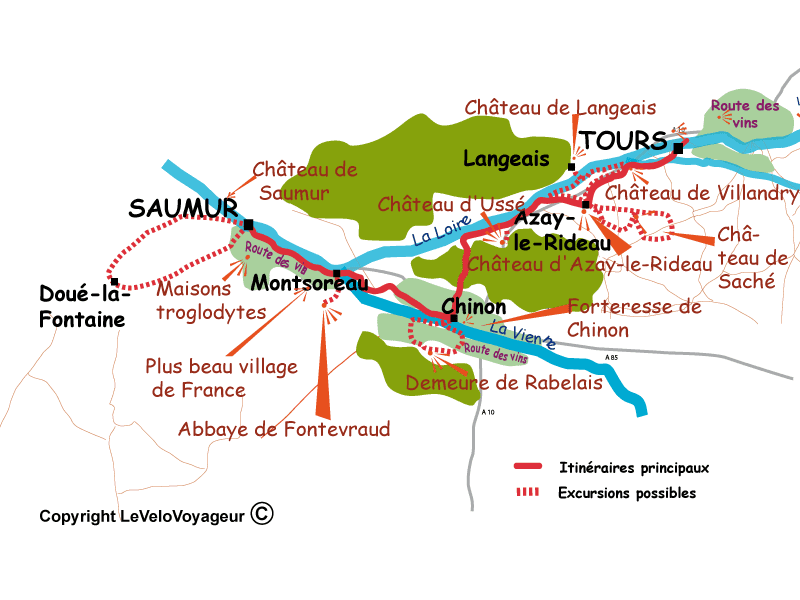 Ontdek de schoonheid van de Loire-vallei langs het "Loire à velo" fietspad tussen Tours en Saumur. Tussen de Loire-vallei en de Val de Vienne, brengt dit fietspad u via kleine landelijke wegen langs de prachtigste kastelen van de Loire regio : Villandry, Azay-le-Rideau of Ussé, het kasteel van de Schone Slaapster of Doornroosje. Ontdek de voortdurend veranderende kleuren van de Loire-vallei, de traditionele bootjes dobberend op het water, maar ook de wijngaarden van Chinon en Saumur of de abdij van Fontevraud. Bovendien zijn de grotwoningen die u langsheen de route zal tegenkomen zeker een bezoek waard. Laat u meeslepen door de magie van de "Loire à velo".
DAG 1

Tours

Ontdek de charmes van het oude stadsgedeelte van Tours tijdens een wandeling langs de typische houten huizen, de kathedraal van Saint-Gatien, de Wilson brug en het Plumereau plein.

DAG 2

Het fietspad slingert langsheen de Loire van Tours tot aan het kasteel van Villandry met zijn mooie Franse tuinen. Geniet van de oevers van de Loire voor u door de bossen naar het schitterende kasteel van Azay-le-Rideau fietst.

DAG 3

U kunt van de rustdag in Azay-le-Rideau gebruik maken om het kasteel te bezoeken of de omliggende dorpen via mooie landelijke wegen te ontdekken. Eerst brengt uw fietstroute u tot in Villaines-les-Rochers. Dan gaat het richting het dorpje Saché. Het lokale kasteel was de geliefde verblijfplaats van Honoré de Balzac. Hierna gaat het bergaf richting Pont-re-Ruan, een dorpje aan de samenvloeiing van een aantal riviertjes die vervolgens uitmonden in de Indre. Hier kan u ook het Maison du Meunier bezoeken om de geschiedenis achter de molens van het dorp te ontdekken.

DAG 4

Volg het fietspad "Loire à Vélo" en daarna de dijk richting het kasteel van Ussé. Dit kasteel inspireerde Perrault tot het schrijven van het sprookje van Doornroosje, de Schone Slaapster. Hierna bereikt u Chinon, maar vooraleer u afdaalt richting centrum en de rivier Vienne, kunt u genieten van het uitzicht over de oude stad met een wirwar van middeleeuwse steegjes.

DAG 5

Tocht naar Chinon wijngaarden

Vandaag kan u in alle vrijheid kiezen hoe uw dag er uitziet: slenteren door middeleeuwse steegjes met een bezoek aan het fort van Chinon of met de fiets de wijngaarden en heuvels rondom Chinon verkennen. In het laatste geval mag zeker een bezoek aan "La Devinière" - het oude huis van de Franse schrijver Rabelais - niet ontbreken. Vergeet niet om even te stoppen om de lokale Chinon wijnen te proeven.

DAG 6

Chinon - Montsoreau of Fontevraud

2 opties : fiets of kano

NAAR KEUZE:

U kunt uw fiets tegen een kano verruilen en afdalen naar Montsoreau of verder fietsen naar de Fontevraud abdij.

KEUZE 1: Kanotocht naar Montsoreau

4h

Geniet van een kanotocht om de schoonheid van de Loire-vallei vanaf de rivier te bewonderen. U peddelt langs Candes-Saint-Martin, mooi klein dorpje gebouwd in witte kalksteen. U dobbert verder naar Montsoreau, een van de mooiste dorpen van Frankrijk gebouwd rond het kasteel. De aankomst is aan de voet van het kasteel.

(Om dit deel van de tocht te ondernemen met de kano is de absolute minimumleeftijd 6 jaar en moeten alle deelnemers kunnen zwemmen. Indien u niet wil kanoën, fietst u verder op het fietspad langs de Vienne).

Deze activiteit is beschikbaar van 22 april tot 30 september.

Inbegrepen

KEUZE 2: Fietstocht naar Fontevraud

3h

U fietst langs de Vienne en de Loire door mooie witte kalksteen dorpjes Candes-Saint-Martin en Montsoreau. U gaat verder op de glooiende heuvel naar Fontevraud, het grootste klooster van Europa dat zeker de omweg waard is, want het herbergt de graven van Aliénor van Aquitanië en zijn zooon .


Inbegrepen

DAG 7

Fontevraud - Saumur

2 opties naar keuze

De route van vandaag wisselt af tussen holbewonersdorpen en wijngaarden. Er zijn verschillende mogelijkheden : u blijft de Loire volgen of u fietst door de heuvels, in ieder geval komen de wegen samen in het dorp Souzay-Champigny. In het hart van dat dorp ligt een schitterend holbewonerscomplex. Stop ook even om de wijnen van Saumur te proeven. Aan het einde van deze betoverende route ontdekt u de stad Saumur en zijn kasteel met indrukwekkende kerkers.

DAG 8

Vertrek van Saumur

Ontdek de charmes van het historische centrum van Saumur en bewonder het kasteel dat de stad overschaduwt. Saumur heeft voor ieder wat wils: hoofdstad van de paardendressuur, culinair centrum in Frankrijk en gelegen in het hart van een rijke wijnregio.
Fietsen
Bij aankomst geven wij u :
Een volledig uitgeruste hybridefiets of tandem.
De uitrusting : een stuurtas met kaarthouder, fietstassen, een helm (op verzoek), een fluorescerend vestje, een reparatiekit met bandenplakkertjes.
Voor kinderen die zelf niet fietsen bieden wij de mogelijkheid aan om een
kinderstoeltje,
een
aanhangwagen
of aanhangfietsje
(niet beschikbaar voor elektrische fietsen) te huren, afhankelijk van de leeftijd en de grootte van het kind.
Elektrische fietsen zijn beschikbaar voor volwassenen (+1m55).

Indien u uw eigen fietsen meebrengt, krijgt u een korting op de pakketprijs (zie op "Prijzen" link)


Bagagetransport
Onze vakanties zijn inclusief bagagetransport, zodat u comfortabel en zonder stress kan genieten van u vakantie :
Transport van uw bagage van verblijfplaats naar verblijfplaats.
Na elke etappe staat uw bagage klaar in uw verblijfplaats.
Voor de spullen die u tijdens de fietstocht nodig hebt voorzien wij stuur- en fietstassen.
Praktische tip :
Onze eigen ervaring leert ons dat fietsen met een rugzak erg onhandig en oncomfortabel is. We raden dit dan ook ten stelligste af.
We raden aan om als u voor 17.00 uur verwacht aan te komen bij de volgende accommodatie, een extra set kleding mee te nemen in uw fietstas.
Een fietsvakantie is de ideale gelegenheid om regionaal en lokaal cultureel erfgoed te ontdekken.

Opdat u in alle vrijheid kunt reizen, fietst u zonder reisleider maar met een reisgids die alle praktische informatie over de route en bezienswaardigheden weergeeft.
Die bevat:
een roadbook met kaarten over de route op een schaal die makkelijk te volgen is voor een fietser.
een roadbook met een stap-voor-stap beschrijving in het Engels die op elke kruising de te volgen richting aangeeft en een korte presentatie over de bezienswaardigheden langs de route.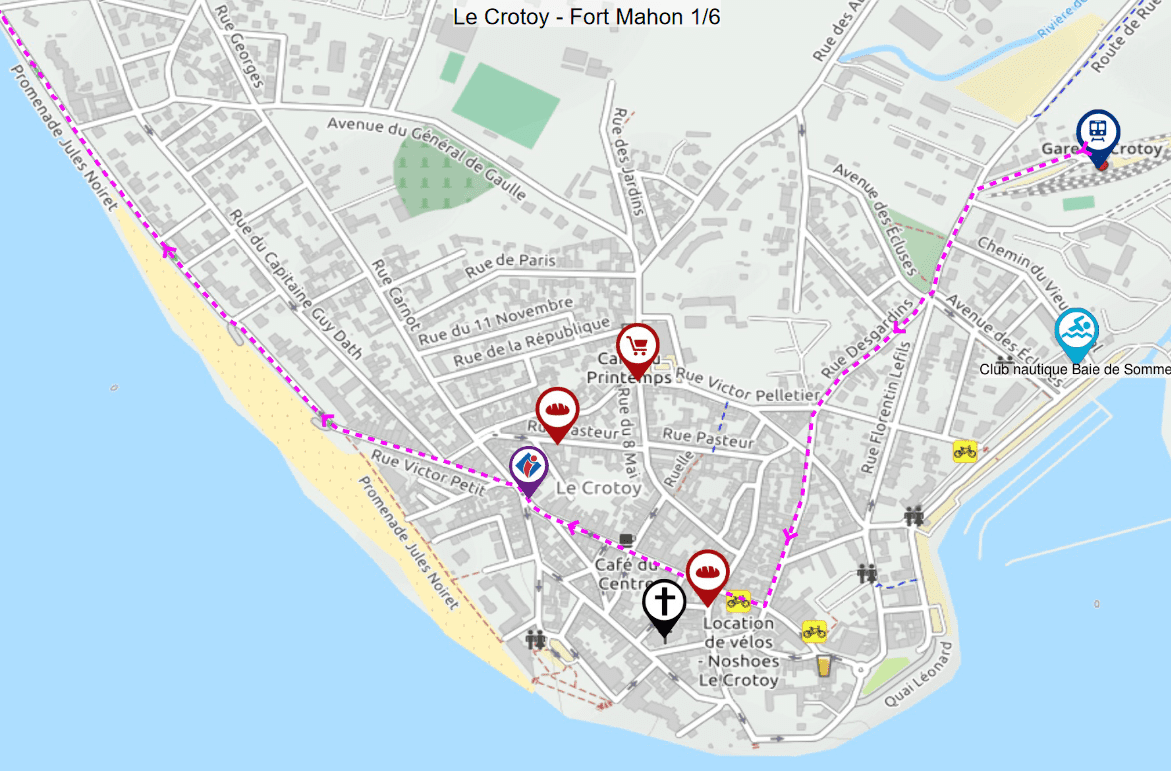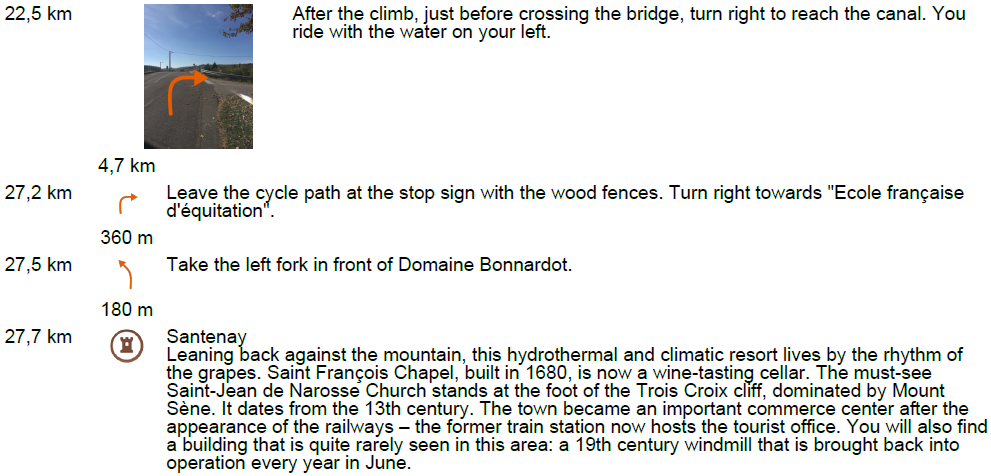 Voorbeeld van een kaart en stap-voor-stap beschrijving


Onze GPS-App
Voor deze reis kunt u ook onze app met GPS navigatie gebruiken (zonder supplement).
Alle informatie van de kaart en stap-voor-stap roadbooks vindt u in de app terug. Uw locatie wordt aangegeven dankzij het GPS-systeem van uw telefoon. De te volgen route en richting worden op elke kruising in het Engels op het scherm van uw telefoon getoond en ook vocaal meegedeeld. Bezienswaardigheden, restaurants, services en waarschuwingen worden aangegeven als u erlangs rijdt.

-> U hebt een smartphone nodig en voor de reis downloadt u de app vanuit de Apple of Android store. Download- en gebruikinstructies worden na bevestiging van uw boeking en betaling van het saldo naar u gestuurd. Nadat u de gegevens gedownloaded hebt, hebt u geen mobiele data meer nodig voor het GPS begeleiding.