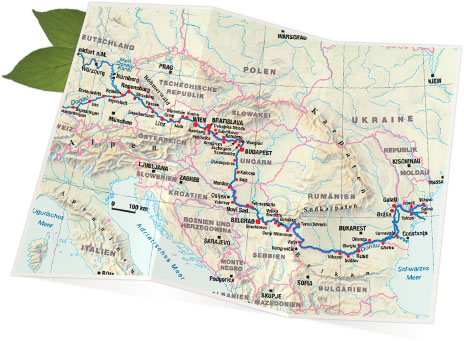 Who we are
Why cycling holidays?

Le Velo Voyageur was created in 2011 by Eugénie and Bérangère, 2 young women who were not predestined to become keen cyclists and yet!

Soon after they met at university, they undertook for the love of adventure to bike along the Danube from Passau (Germany) to the Black Sea despite little training and much experience as city mice. The first 30 kilometers were not that easy but 2.200 km further, they had lived extraordinary moments on their bikes thanks to the people they met, the landscapes they crossed and other unexpected discoveries.

After their graduation, they started another bike trip to share the pleasure of cycling holidays with others.

A travel agency dedicated to cycle tours in France

So, they were on the road again to find the best cycle routes in France and offer the nicest travel experience: many discoveries, exchanges, stunning things to see, exercise, good food and plenty of rest.

As they were cycling, meeting partners and having feedback from their growing number of guests, they improved their stamina. But most of all, they broadened their catalogue of destinations and services, keeping in mind the different wishes of travelers today.

The team of Le Velo Voyageur grew in the meantime. After cycling, a lot needs to be done: describing, mapping, answering to questions, booking, organizing, checking, printing and counting so that everything goes smooth and our guests keep un-forget-table memories of their holidays!

We have decided to offer cycling holidays only because we like to be expert at what we do and because we have many ideas to offer more (and always better) cycling holidays.

Meet our team!




What do we do?
Vélo Voyageur organize your turnkey trips:
accommodations' reservation, fully equiped bikes' rental, luggages' transportation, short stages on 100% tested itineraries, a road book with maps and description of the routes and a 7/7 helpline ...

The itineraries have been tested by the Vélo Voyageur team at the worst time of the year... in winter!